Rolled Flounder Fillets with Crabmeat Stuffing
Serves 4
This quick and easy recipe makes a delicious and healthy main dish for a weeknight dinner or an elegant entertaining. If you cannot find flounder, other thin white fish fillets, such as sole or haddock, will work as well.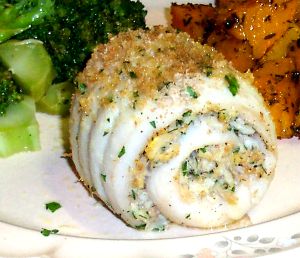 Ingredients
Cooking oil spray
4 skinless flounder fillets, about 4 ounces each
Salt and pepper to taste
8 ounces crabmeat
1 teaspoon grated onion (see notes below)
1 clove garlic, grated
1 cup fresh breadcrumbs, divided
1 tablespoon chopped fresh dill
1 tablespoon chopped fresh parsley, divided
Grated rind and juice from 1/2 medium lemon
1 tablespoon olive oil or melted butter, preferably unsalted
4 lemon wedges for garnish
Preheat oven to 350° F. Spray a shallow baking pan with cooking oil. Place the fillets on a work surface with the skinned side up. Season lightly with salt and pepper. In a medium bowl, mix together the crab, onion, garlic, 3/4 cup of the breadcrumbs, dill, 2 teaspoons of the parsley, lemon rind and juice, salt and pepper. Divide the crab among the fish and spread evenly, leaving a little edge around the perimeter. Starting at a long end, roll the fish and, if needed, secure with toothpicks. Place, seam side down in the baking dish. Mix together the remaining breadcrumbs and parsley and sprinkle on the top. Drizzle with just enough of the oil or butter to moisten. Bake until the stuffing is hot and the fish is cooked, 20 to 25 minutes. Serve immediately with lemon wedges.
Notes: If you do not have a fine grater, such as a microplane, you can very finely mince both the onion and garlic.