Double Pea Soup
Serves 2 to 3 (see notes below)
I love a good, hearty split pea soup, such as those listed in the similar and related recipes. However, sometimes I get hungry for it during the hot, summer months when something a little lighter is more appropriate. That is why I came up with this version that uses less dried split peas and includes some frozen green peas, which add a different texture and refreshing taste. It is an easy, healthy, relatively quick and delicious one pot main dish suitable for any time of the year. For a vegetarian version, omit the pancetta and use vegetable broth.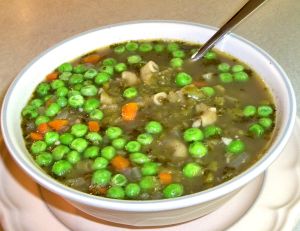 Ingredients
1 tablespoon olive oil
1 ounce pancetta, finely diced
1 small or 1/2 large onion, chopped
1 medium celery rib, chopped
1 large carrot, chopped
5 large garlic cloves, minced
1 cup low-sodium chicken broth
5 cups water
3/4 pound split peas, rinsed
1 bay leaf
1 teaspoon dried thyme leaves
1 tablespoon dried marjoram
1 teaspoon ground allspice (see notes below)
Salt and pepper to taste
1/3 cup elbows or similar small pasta
1/2 pound frozen green peas
Freshly grated Parmesan cheese (optional garnish)
Heat the oil in a 4-quart soup pot over medium-high heat. Add the pancetta and cook until some of the fat has rendered out, about 4 minutes. Add the onions, carrots and celery; cook until slightly softened, about 5 minutes. Add the garlic and cook another minute. Add the broth, water and split peas. Stir in the bay leaf, thyme, marjoram, allspice, salt and pepper. Bring to a boil, cover, reduce heat to low and simmer, stirring occasionally, until the peas are tender and just starting to break down, about 40 minutes. At this point, taste for seasoning, adding more of the herbs or spices if desired. Add the pasta and continue to cook until tender, about 10 minutes. About 5 minutes before serving, add the frozen peas. (If not serving immediately, keep warm over a very low setting for up to 30 minutes, but do not add the frozen peas until 5 minutes before serving.) Serve, passing the grated cheese separately.
Notes: If you prefer a thicker pea soup, allow more time for the split peas to break down. For a thinner soup, do the opposite. For a heartier soup, add a little more pasta and/or frozen peas. I usually use about 1 tablespoon of ground allspice because I love the flavor in a pea soup. Taste before the soup is done and add more if desired. Leftovers are very good, but the soup will continue to thicken as the dried peas break down and the frozen peas will lose their fresh texture. When combined with a sandwich or salad, the soup will serve up to four people.