Split Pea Soup with Pancetta or Bacon
Serves 4
I love my mother's Split Pea Soup with Ham, which is in the similar and related recipes, but I wanted to create a new version using less meat and requiring minimal preparation. In this recipe, instead of using three pounds of ham, I add two ounces of bacon, which still provides a lot of flavor. That also cuts prep time by more than thirty minutes. This is an easy, healthy and delicious one pot comfort meal. Vegetarians can omit the bacon and still enjoy a delicious soup.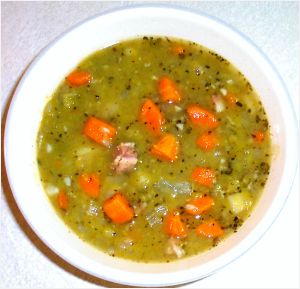 Ingredients
1 tablespoon olive oil
2 ounces pancetta or thick-sliced bacon, diced
1 medium onion, chopped (about 1 cup)
3 medium carrots, chopped (about 2 cups)
2 celery ribs, chopped (about 1-1/2 cups)
4 large cloves garlic, minced or finely chopped
1 large bay leaf
1 tablespoon dried marjoram leaves
1/4 teaspoon ground allspice
8 cups water
1 pound dried split green peas
Salt and pepper to taste
Heat the oil in a 4-quart soup pot over medium heat. Add the pancetta or bacon and cook until some of the fat has rendered out, about 5 minutes. Add the onions, carrots and celery; cook until slightly softened, about 5 minutes. Add the garlic and cook another minute. Stir in the bay leaf, marjoram and allspice. Add the water, peas, salt and pepper. Bring to a boil, cover, reduce heat to low and simmer, stirring occasionally, until peas are tender and soup is slightly thickened, about 1-1/2 hours. Serve immediately or keep warm over a very low setting for up to 30 minutes.
Notes: This soup can be made ahead, refrigerated for up to three days and reheated on a busy night. It can also be frozen for up to six months.