Mushroom-Barley Soup with Lentils and Greens
Serves 4
This soup was inspired by my Lamb or Beef Barley Soup, which is in the similar and related recipes. I use beef broth, which can be replaced with vegetable or mushroom broth for a vegetarian version. Then, instead of meat, I add flavor and texture with mushrooms, lentils and greens. The recipe is very easy and relatively quick. The resulting soup is a hearty, delicious, super healthy and comforting one pot meal, requiring only some crusty bread on the side.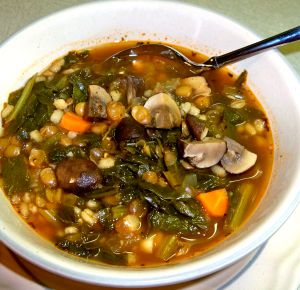 Ingredients
2 tablespoons olive oil
1 small onion, finely chopped
1 small carrot, finely chopped
1 small celery rib, finely chopped
8 ounces cremini mushrooms, sliced
5 large cloves garlic, minced
3 tablespoons tomato paste
1/2 cup tawny port wine or dry sherry (optional, see notes below)
2 cups beef broth, preferably low-sodium (can use vegetable or mushroom broth)
5 cups water
1/3 cup pearl barley, rinsed
2/3 cup lentils
1 teaspoon dried thyme leaves
1 teaspoon dried marjoram leaves
1 bay leaf
Salt and pepper to taste
8 ounces frozen spinach or other greens (see notes below)
Heat a soup pot over medium heat. Add the oil, then the onions, carrots and celery. Cook until softened, about 5 minutes. Add the mushrooms and cook until lightly browned. Add the garlic and tomato paste and cook 1 more minute. Add the port or sherry and stir to deglaze the pan. Add the remaining ingredients except the greens, bring to a boil over high heat, cover, reduce to medium-low and simmer for 30 minutes. Add the greens and continue to cook until the barley is tender, about 30 additional minutes. Serve immediately, or keep warm over a very low heat.
Notes: Other flavorful mushrooms, such as shitake, portabella or a mixture can be used. Either port wine or dry sherry go well with mushrooms. I always have both on hand and, when I cannot decide which to use, I pour in a little of both. A good substitute for the beef broth is mushroom broth, which has a meaty flavor. If you cannot find low-sodium, make your own using dried mushrooms soaked in hot water for thirty to 60 minutes. Fresh greens can be used in place of frozen. If using fresh spinach, add it during the last five or ten minutes. Other greens that require additional cooking time to become tender, such as fresh kale or turnip greens, should be added sooner.