Roasted Butternut Squash and Kale Soup
Serves 4 as a main dish, 6 to 8 as a first course
This soup recipe was created when I had leftover roasted butternut squash, one of my favorite winter vegetables (see the similar and related recipes). It was so good, I decided to make it with fresh squash and, of course, it was even better. It is a quick, easy, healthy and delicious main dish, but light enough to serve as a first course for a special occasion. See the notes below for some tips and substitutions.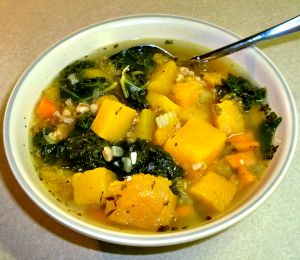 Ingredients
2 pounds butternut squash cut into about 3/4-inch cubes
2 tablespoons olive oil, divided
1 teaspoon thyme, divided
1 tablespoon dried marjoram, divided
Salt and pepper to taste
1 small onion, diced
1 small carrot, diced
1 small celery rib, diced
4 large garlic cloves, minced
1/2 cup wheat berries (see notes below)
4 cups low-sodium chicken or vegetable broth
2 cups water
1 bay leaf
2 teaspoons savory leaves
1/4 teaspoon ground cardamom
1 bunch (about 1-pound) kale, tough stems removed, rinsed and coarsely chopped
Freshly grated Romano cheese for serving
Preheat oven to 450° F. For easy cleanup, line a large sheet pan with foil and spray lightly with cooking spray. Place the squash on the sheet in one layer. Drizzle with a little of the olive oil. Sprinkle with 1/2 teaspoon of the thyme and 1 teaspoon of the marjoram, salt and pepper. Toss to combine. Place in the oven and roast until barely tender, about 20 minutes.
Meanwhile, heat the remaining olive oil in a soup pot over medium heat. Add the onions, carrots and celery and cook just until tender, about 5 minutes. Add the garlic and wheat berries and cook another minute. Add the reserved thyme, marjoram, additional salt and pepper, and remaining ingredients, except for the cheese. Bring to a boil, reduce to a simmer, cover and cook 10 minutes. Stir in the roasted squash, taste for seasoning, and cook an additional 5 minutes or until hot and tender. Serve immediately or keep warm over a very low heat. Pass the cheese separately.
Notes: Roasting the squash adds flavor to the soup, but you can skip that step and just add the uncooked squash when you add the broth and other ingredients, using the entire amount of thyme and marjoram. If desired, purchase a whole squash, peel it, remove the seeds and cut into cubes, or take a little help from the produce department and get a pack of precut squash, which is what I usually do. If the cubes are a little smaller than 3/4-inch, adjust the roasting time as needed. You can also purchase prewashed and chopped kale leaves, but reduce the amount to about 1/2 pound if there are no stems to discard. If you prefer to add a little viscosity to the soup, thoroughly mash just a few of the roasted squash pieces before adding to the pot. Similar winter squash, such as acorn or buttercup, can be substituted for the butternut. Rice or other grain that takes about 20 minutes to cook can be substituted for the wheat berries.