Mom's Oven-Braised Beef Brisket
Serves 8 to 10
This was one of my mother's 'go to' recipes for special occasions and large gatherings. It is so easy because, once placed in the oven, it does not require any attention until it is done. It is wonderful as is and just as delicious for sandwiches, as in the similar and related recipes. The secret is to follow the roasting directions completely. In other words, do not peek before the time is up. You can use two briskets for a large crowd or a larger brisket roasted at the same temperature for about an extra 30 minutes.
Ingredients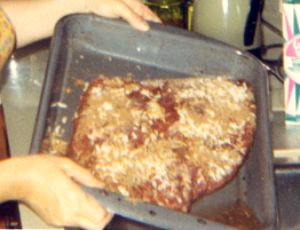 (Photo of Mom holding brisket before braising, circa 1970.)
One beef brisket, about 5 pounds, well-trimmed of visible fat
1 package dehydrated onion soup mix
Pepper to taste
Preheat oven to 325° F. Place brisket in roasting pan. Sprinkle with onion soup mix and pepper. Cover very tightly with foil. Roast for 3 hours without removing the foil. Do not peek! The point is not to allow any steam to escape and the meat will make its own juices without adding liquids. After 3 hours, remove cover. It will be done and pull-apart tender. (I remember making the mistake of checking the roast after 2 hours. Even though I replaced the foil tightly, the liquids dried out and it just was not the same. Mom said, "I told you not to peek", proving once again that mother always knows best.) Serve with the pan juices.
Notes: Brisket can be made ahead, sliced, placed in a baking dish with the juices, covered tightly with foil and refrigerated. To reheat, place the whole thing in a moderate oven until warm. Leftovers are terrific as is or served with buns or crusty rolls for sandwiches.
Variations: Whole onions, carrots, mushrooms and/or potatoes can be added to the roast. This can be made with your own seasonings instead of the onion soup mix and braised in the same manner. Try it with toasted dried chopped onions and dried thyme. The flavor is similar to the original and you get to control the sodium.