Beef Brisket Sandwiches
Serves 8 to 10
This is a recipe my mother often used to serve sandwiches for a special occasion or a large crowd. Besides being extremely easy and delicious, the great thing about it is that, after you season the meat and place it in the oven, it braises by itself while you are free to do other things. It is important to follow the cooking directions completely. In other words, do not peek before the indicated time. You do not want any steam to escape so the meat will make its own delicious juices without adding liquids and come out perfectly tender. Years ago, I made the mistake of checking the roast after two hours. Even though I replaced the foil tightly, the liquids dried out and it just was not the same. If you are serving more people, use a larger brisket and cook at the same temperature for about an extra 30 minutes. Alternately, you can use two briskets of equal size in one large pan or two separate pans. I should point out that my mother's original recipe, which is in the similar and related recipes, calls for using dehydrated onion soup mix. It is very good that way, but also very high in sodium. So, I revised the recipe using my own herbs and spices, as well as toasted dehydrated chopped onions. If you do not mind salty foods and are not concerned about sodium intake, you can substitute one soup packet and just add pepper.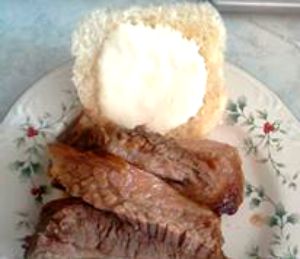 (Photo courtesy of Wyitt Solomon Ranck.)
Ingredients
One beef brisket, about 5 pounds, well-trimmed of visible fat
1 teaspoon garlic powder
1 teaspoon onion powder
1 teaspoon dried thyme leaves
1/2 teaspoon sweet paprika
1/4 cup toasted dried chopped onions (see notes below)
Salt and pepper to taste
Crusty rolls, such as kaiser or club, white or whole wheat (see notes below)
Mustard, mayonnaise, prepared horseradish, creamy horseradish sauce, and/or coleslaw (optional condiments and toppings)
Preheat oven to 325° F. Place the brisket in a roasting or baking pan. Sprinkle with the garlic powder, onion powder, thyme leaves, paprika, salt, pepper and dried onions. Cover the pan very tightly with foil. Braise in the oven for 3 hours. Do not remove the foil to check the meat! After 3 hours in the oven, remove the foil. The brisket will be done and pull-apart tender. Remove the meat and slice thinly across the grain. Return to the juices in the pan and cover with foil until serving.
Cut the rolls in half. If desired, lightly toast the cut sides under the broiler. Serve the sandwiches buffet-style, with the condiments in little bowls, letting each person make his or her own.
Notes: You can purchase toasted dehydrated onions from various sources. However, it is very easy to toast regular dried onions by placing on a baking sheet and toasting in a 350° oven until lightly browned, about 15 minutes. Just be certain to purchase chopped or flaked onions, not minced. You want the larger pieces. The meat is very good leftover, and it can be made a day ahead, sliced, refrigerated, then reheated in the juices in a moderate oven. If the sandwiches are part of a buffet or potluck event, serve the beef with white and whole wheat dinner rolls for smaller portions.