Molasses Barbecue Sauce
Makes about 1-3/4 cups
This recipe for molasses barbecue sauce is a quick and easy condiment that is delicious with most any meat, but especially pork and chicken. It is one of my favorites. The recipe can be halved or doubled. For additional barbecue sauces, see the similar and related recipes.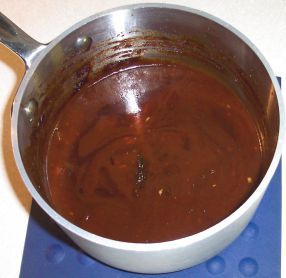 Ingredients
1 tablespoon butter or oil
1/2 cup chopped onions
1 large clove garlic, chopped
1 cup ketchup
6 tablespoons molasses
1 tablespoon brown sugar
3 tablespoons Worcestershire sauce
3 tablespoon cider vinegar
2 teaspoons prepared yellow mustard
1/4 teaspoon dried thyme
3/4 teaspoon liquid smoke (see notes below)
Salt and pepper to taste
Heat the butter in a small saucepan over medium-high heat. Add the onions and sauté until softened, about 5 minutes. Add the garlic and stir about 1 minute. Add the remaining ingredients. Reduce heat to medium. Bring to a boil and cook until thickened, about 5 minutes. Let cool before using.
Notes: Liquid smoke can be found in most grocery stores in the condiment aisle and should not be omitted. As the name suggests, it provides a mild but distinct smoky flavor. I recently discovered dried, powdered smoke which has a longer shelf life. However, it is difficult to find. Extra barbecue sauce can be frozen for up to six months.